Attention, please – malicious websites, faking the UBB online banking and phishing emails

01 Decempber 2022
Dear clients,
We would like to inform you about a new fraud attempt, related to faking the official website of UBB Online. Our systems have detected malicious websites, appearing as results upon searching of the "UBB electronic banking" phrase or similar key words in Goоgle.
Upon entering a user name and a password in the malicious website, faking the official one, the following screen would appear: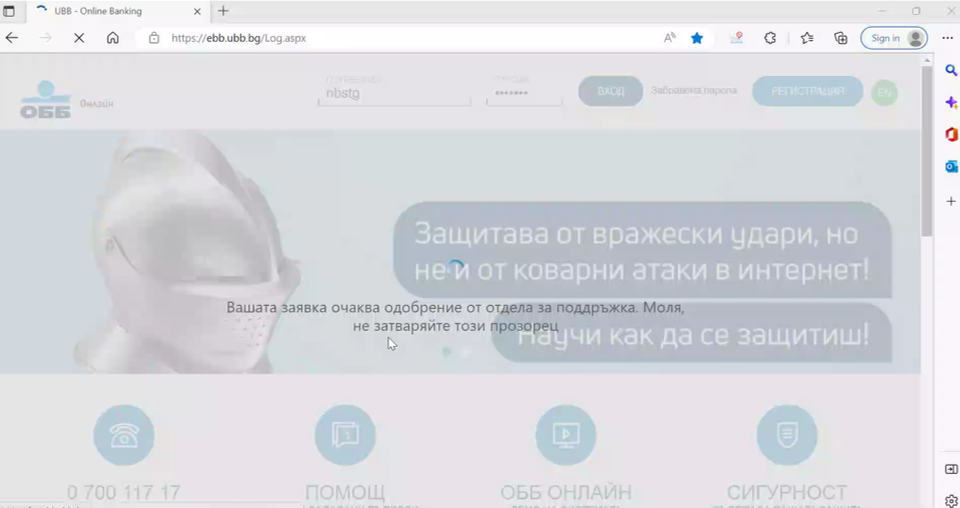 Then, users are being asked to update their data and are being re-directed to the official website of UBB Online, without knowing that they have been misled. Based on the login passwords and user name, obtained through the malicious website, third persons would then make attempts to execute fund transfers from those users' accounts.
We do assure you that our experts are busy with reporting and eliminating all malicious websites. However, what is most important in this case and in order to protect yourself from this fraud attempt you should check the IBAN number of the account, to which the payment has been ordered, prior to entering a code from either a token or SMS. Should the beneficiary's account number, stated in the message, containing the confirmation code be incorrect or should you receive a confirmation code without having generated a payment order, please, logout of the website without entering anything and immediately inform the UBB Contact Centre at the following telephone number: 0700 117 17 or *7171.
You should also consider the following recommendations:
Access the UBB Online website by entering the entire address in the browser bar: https://ebb.ubb.bg/, or by clicking the UBB Online button in the bank's official website: https://www.ubb.bg/. Should you come across different address variants of those websites (including such, containing a dash "–" or a changed position of the dot sign "."), please, bear in mind that it is a fraud attempt.
Upon scanning a colour QR code [PN3] or receiving a one-time code via an SMS when ordering fund transfers you should always check carefully the beneficiary's IBAN and compare it against the account to which you want to transfer a particular amount.
Do not open UBB Online Banking via links received via email and do not enter your customer details. The email you have received maybe is a phishing email designed to steal your UBB Online access details.
Sincerely,
The UBB Team
Publication date: 11/29/2022
Back to all news